Jackson Heights is located on the north part of Queens. is neighbored to North Corona to the east and Elmhurst to the south. Woodside to the west Northern Astoria to the northwest and East Elmhurst to the north east. The Jackson Heights name comes from Jackson Avenue – the former name for Northern Blvd.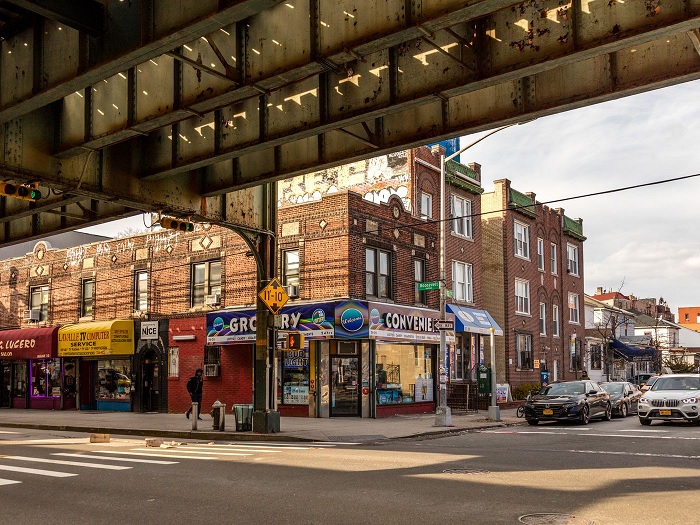 Jackson Heights was farmland when the Queensboro Bridge opened in 1908 connecting Manhattan to Queens and prompting entrepreneur Edward A. MacDougall to buy as many farms as possible along the planned subway route. His Queensboro Corporation developed Jackson Heights, creating unique and popular garden co-ops and private homes, which were inspired by Britain's Garden City movement. After World War II new developments were more densely populated, and an original golf course was paved over.
Jackson Heights, a historic and heterogeneous area less than a half-hour from Midtown and, pricewise, a world away from trendier enclaves.
Jackson Heights offers something that most Queens neighborhoods don't: appealing older housing stock. Many of the apartments and co-ops in its extensive historic district feature private gardens. Many of the prewar co-ops boast shared, private gardens, each about a city block in length. The gardens are open to the public once a year for an event run by the JHBG.
Transit, however, is a challenge: Although Jackson Heights is blanketed with subway stations, commutes to midtown can be sluggish, averaging about 25 minutes
Jackson Heights is a bustling neighborhood, famous for its garden apartment buildings and its diversity. More than half of its residents are immigrants, particularly Colombians, other Latinos, and South Asians, with its own Little India.
Jackson Heights flourished in the 1920s with unique garden co-ops that attracted middle-class professionals escaping overcrowded and overpriced Manhattan. Today, for similar reasons, Jackson Heights has again become a hot neighborhood and real estate market
Jackson Heights' main drags are Roosevelt Avenue (under the elevated subway), Northern Boulevard, 37th Avenue, and 81st and 82nd Streets. The Historic District is between Northern Boulevard and Roosevelt. Little India's center is at 74th Street and 35th Avenue.
Buildings with four to eight floors dominate the heart of Jackson Heights. One-family and two-family homes are not uncommon. North of Northern there are more row houses, smaller co-ops, and cheaper prices. Prices have risen fast.
The only public park in Jackson Heights is crowded, black-top Travers Park (34th Ave between 77th and 78th Sts), also the site of summer Sunday concerts and the Farmers Market.